What is O arrangement X arrangement?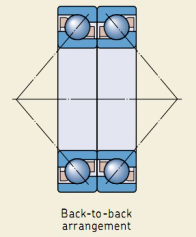 O arrangement (BACK-TO-BACK)
With the 'back to back' bearing pair the inner rings are claimed together. The contact angle lines between the outer ring raceway, ball and inner raceway diverge. This results in a maximum spread giving high rigidity. This is the reason why this type of duplex bearing is most commonly used.
Advantages:
1)Less sensitive to the thermal gradient than face-to-face arrangement
2)Easy mounting on the shaft

3)Self contained assembly on the shaft

Disadvantages :
1)Higher sensitivity to misalignment than face-to-face

2)Difficult dismounting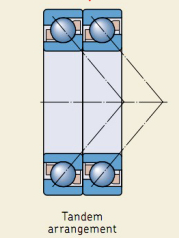 X Arrangement (FACE-TO-FACE)
With the 'face to face' bearing pair the outer rings are claimed together. The contact lines converge resulting in a smaller spread and more elastically.
Advantages
1)Higher misalignment capabilities than back-to-back
2)Permits disassembly in screw compressors without destroying one of the bearing

Disadvantages
1)No self-contained assembly on the shaft
2)More sensitive to thermal gradient than back-to-back